How can you choose the recruitment method that is right for your budget, your goals and your context?
Successful recruitment for research studies is a balancing act between the efficiency, difficulty, reliability, required time, cost and more of available recruitment methods.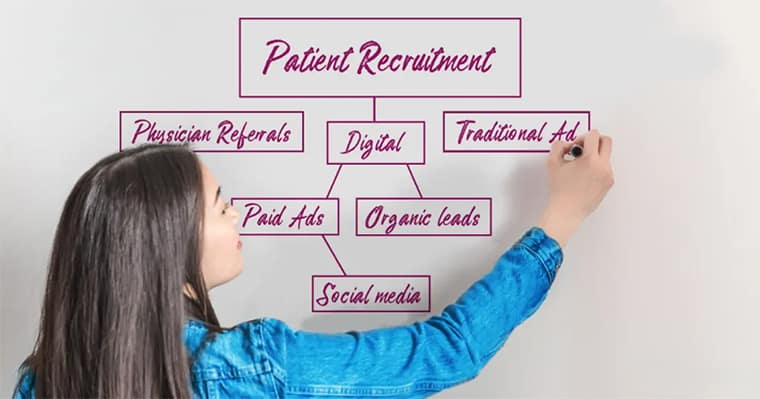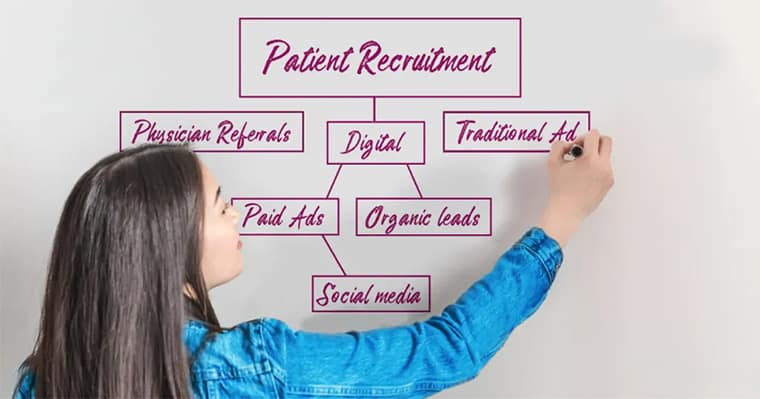 The tradeoffs become especially complicated when you have the option of both utilizing traditional methods and leveraging technology.
Here, we dive into all of the most common recruitment methods and rank cost, effectiveness, reliability, time and difficulty for each, from 1–poor, through to 5–excellent.
If you'd like to understand how many participants can be guaranteed for your study from digital marketing campaigns, request a free recruitment plan.
Traditional: Patient Referrals
Referrals are one of the most common (and favored) forms of patient recruitment for research studies. It's the second most favored recruitment approach for sponsors, contract research organizations and research sites alike.
While referrals from other patients are relatively common, the approach is informal and requires little from the clinical staff. In contrast, getting patient referrals from physicians will require some legwork and follow up. The approach typically involves writing up a recruitment letter with all the relevant information for a practitioner to hand off to a patient.
Most physicians are open to this approach; a Tufts study recently found that 90 percent of physicians are "comfortable providing and discussing clinical trial information with their patients." At the same time, less than 10 percent of physicians say the fear of losing patients means they won't refer to trials.
This recruitment method works particularly well for:
Rare medical conditions (it can be difficult to reach a very small percentage of the population through traditional or even targeted advertising efforts).
Older populations (where patients cannot be contacted through effective digital channels).
In a phrase, patient referrals are a low-cost and low-effort recruitment method with variable results.
Cost:

⭐️⭐️⭐️⭐️⭐️

Effectiveness:

⭐️⭐️⭐️⭐️

Reliability:

⭐️

Time:

⭐️⭐️⭐️

Difficulty:

⭐️⭐️⭐️⭐️
The biggest problem with patient referrals is getting practitioners to actually make the referral. For every 10 physicians that agree to send you referrals for your clinical trial, only 1 will actually send you any patients. While physicians have good intentions, the pressures and competing priorities of their practice mean that this strategy very rarely pays off.
To find three good sources of physicians referrals, it's likely you'll need to contact, follow up with and get agreement from 30 or more practitioners.
Timeless: Advertising With Traditional Media
While patient referrals let you reach a smaller but pre-qualified group of patients, advertising with traditional media lets you reach a wider audience (though that reach is declining). Traditional media efforts include flyers in clinics and hospitals, newspaper ads as well as spots on radio and television. You offer initial information up front and rely on qualifying efforts further in the process to qualify responses.
Overall, advertising with traditional media is easy to do, but the recruitment method is declining in cost effectiveness and reach.
Cost:

⭐️⭐️⭐️

Effectiveness:

⭐️⭐️

Reliability:

⭐️⭐️⭐️⭐️

Time:

⭐️⭐️⭐️⭐️

Difficulty:

⭐️⭐️⭐️⭐️
With these ratings, remember that the cost depends on the medium you run with (i.e. newspaper ads are much less expensive than a TV spot). The number of patients you can reach through traditional media is slowly dwindling as it's replaced with digital channels.
Digital: Patient Recruitment for Today
While patient referrals and traditional media offer a 'tried and true' approach to patient recruitment, advances in digital media this past decade also mean recruitment methods can be updated to new channels.
These days, digital methods include a wide range of paid and unpaid (typically referred to as organic) methods across social media, search engines and websites. The top methods for digital reach include:
Paid search: A pay-per-click ad that gets placed at the top of search engine (read Google) results pages.
Paid social: Image ads that appear in social media feeds (from Facebook to Snapchat).
Banner ads: Images and text in a banner format at the top of the page, that can be added to relevant websites.
Organic social: Reaching your audience through online forums and groups.
Landing pages: A mini-website dedicated to your research study with relevant information and an inquiry form.
Paid Digital Ads
Paying for digital advertising is as flexible as you can get. You pay for the number of clicks on the ad, and can cap your daily spend according to your specific budget.
Paid digital ads include search engines, social media sites and web banner ads — each medium has its own set of best practices and benefits. For more information on which platform will work best for your trial, check out our resources:
Paid ads are best for non-rare conditions, since you can reach a large population and will likely receive all the responses you need with your efforts.
Cost:

⭐️⭐️⭐️⭐️

Effectiveness:

⭐️⭐️⭐️⭐️

Reliability:

⭐️⭐️⭐️⭐️⭐️

Time:

⭐️⭐️

Difficulty:

⭐️⭐️
This recruitment method gets a high score on effectiveness and a low score on difficulty/time since results are very consistent, but depend entirely on your experience and the effort you put daily into optimizing the thousands of variables of your digital campaigns.
Google Ads and Facebook patient recruitment ads, for example, are easy to get started but much more difficult to do well. Taking the time to beat the learning curve may be worth it if your recruitment goal is on the high side and you have the time and budget to fail before you succeed.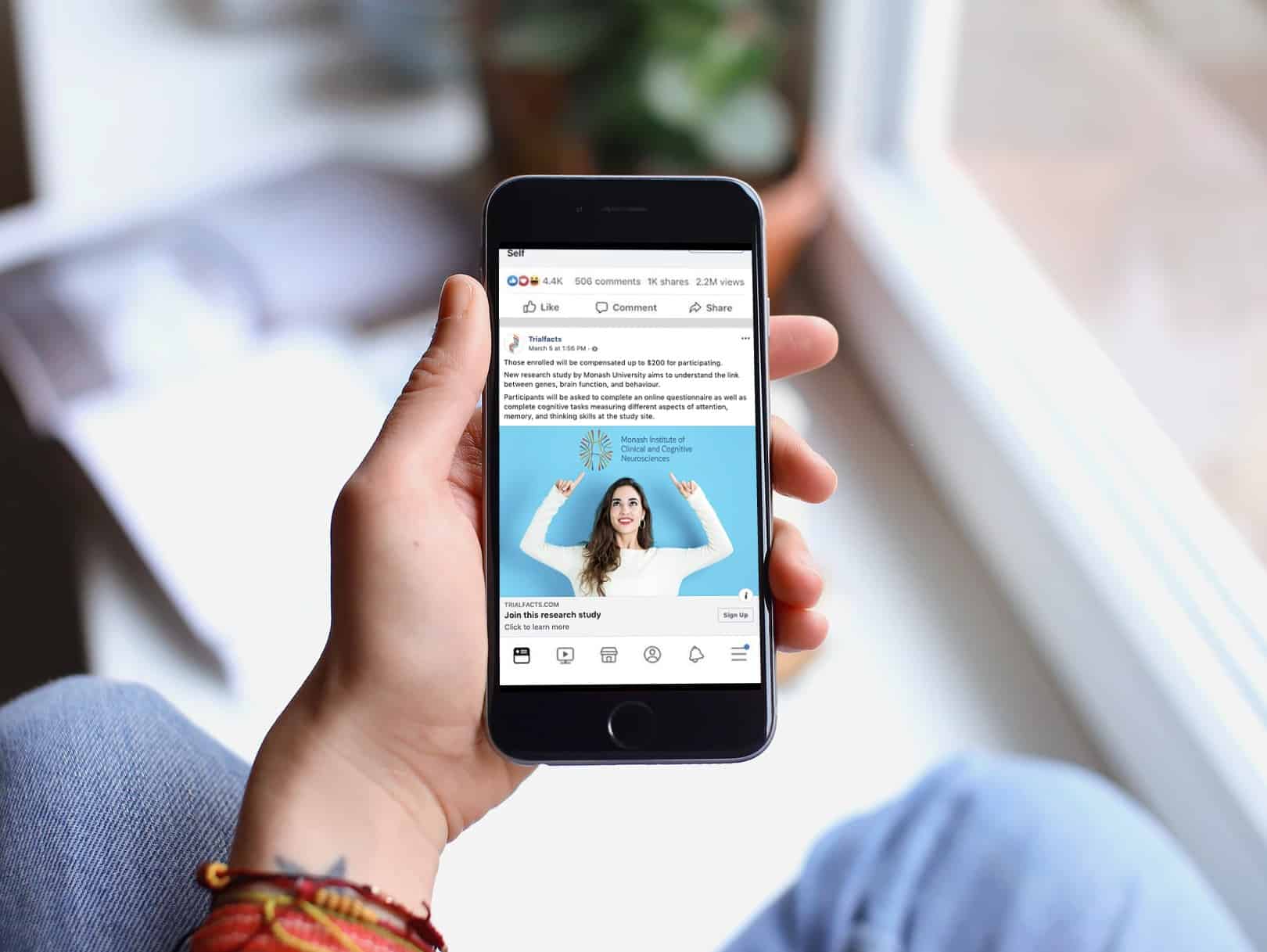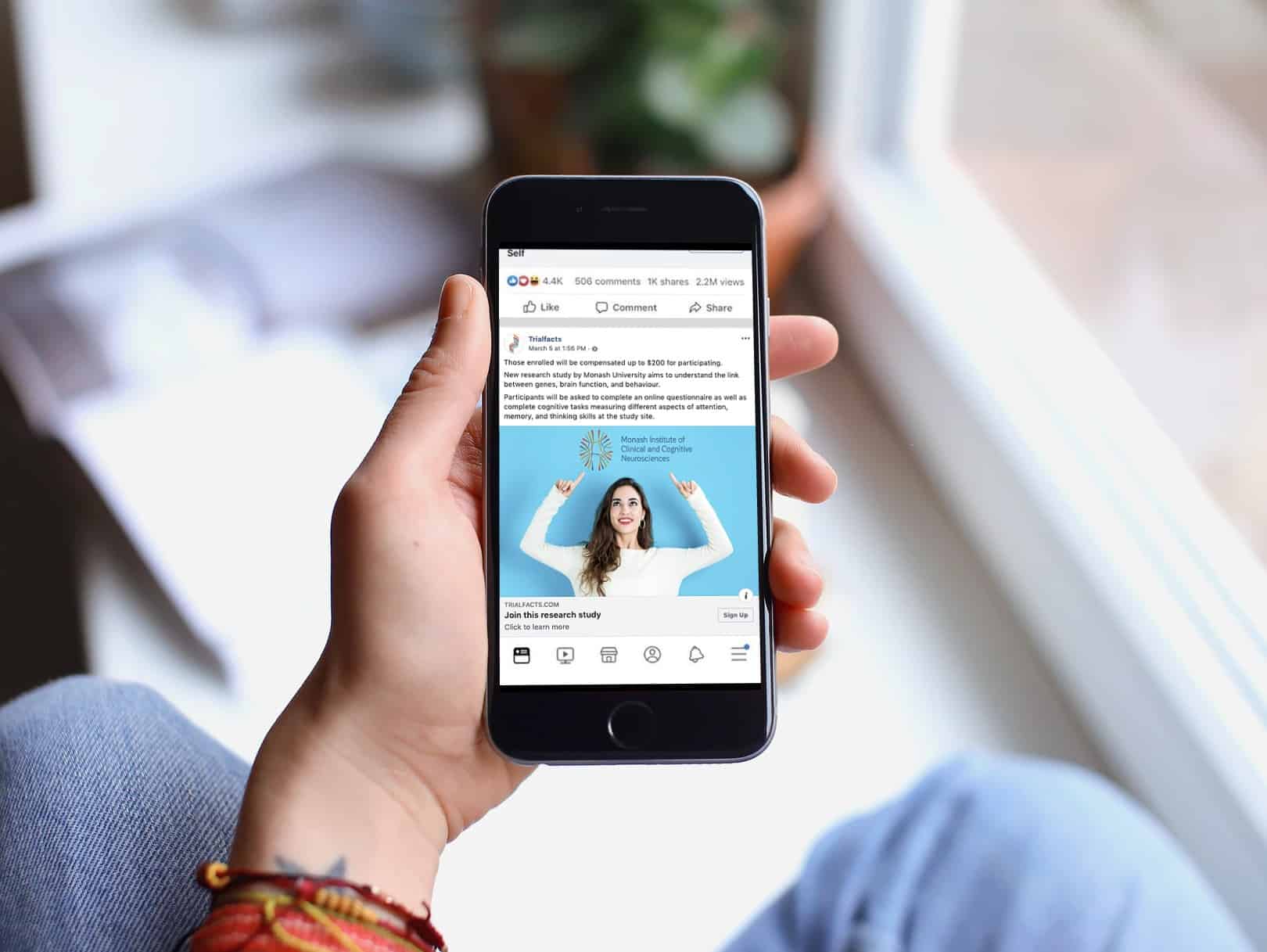 A paid ad for Facebook created by Trialfacts
Organic Leads with Social Media
While paid advertising can be effective, it's not the only way to get the word out about your research study on digital channels. The alternative to paid ads on social media and search engines is to use the platforms to engage with groups, discussions and posts. This is known as organic efforts for social media. If you're willing to take the time you can build organic leads through online forums and patient advocacy discussion groups.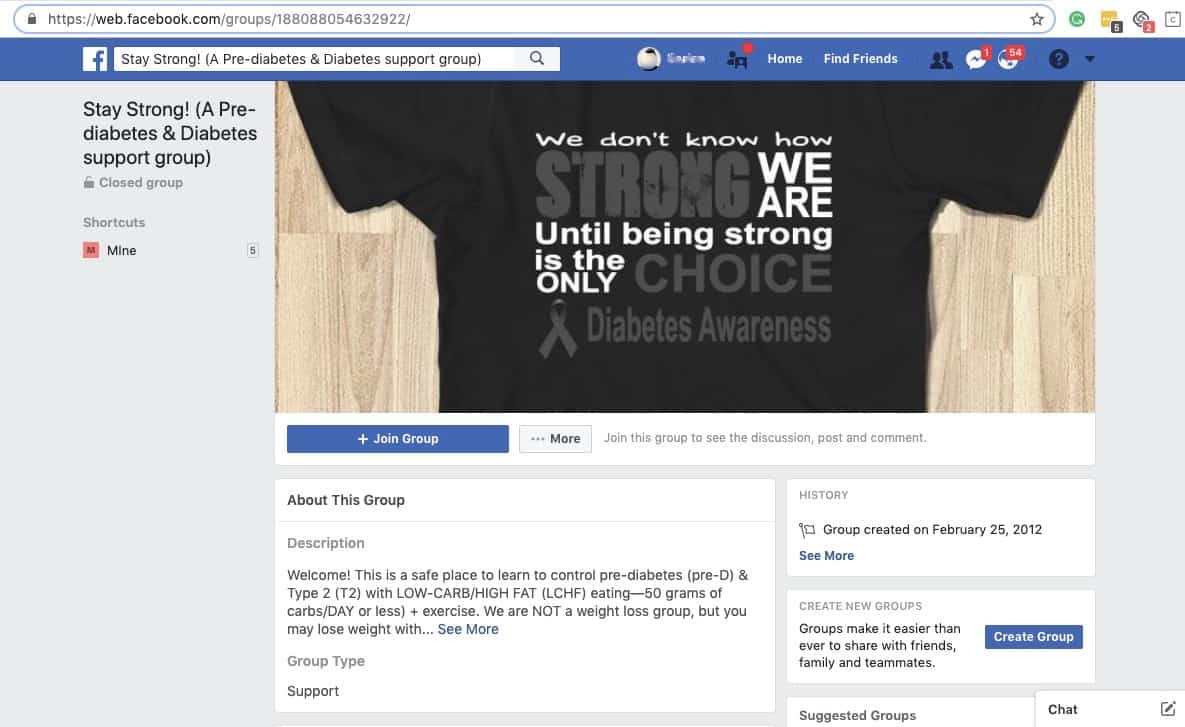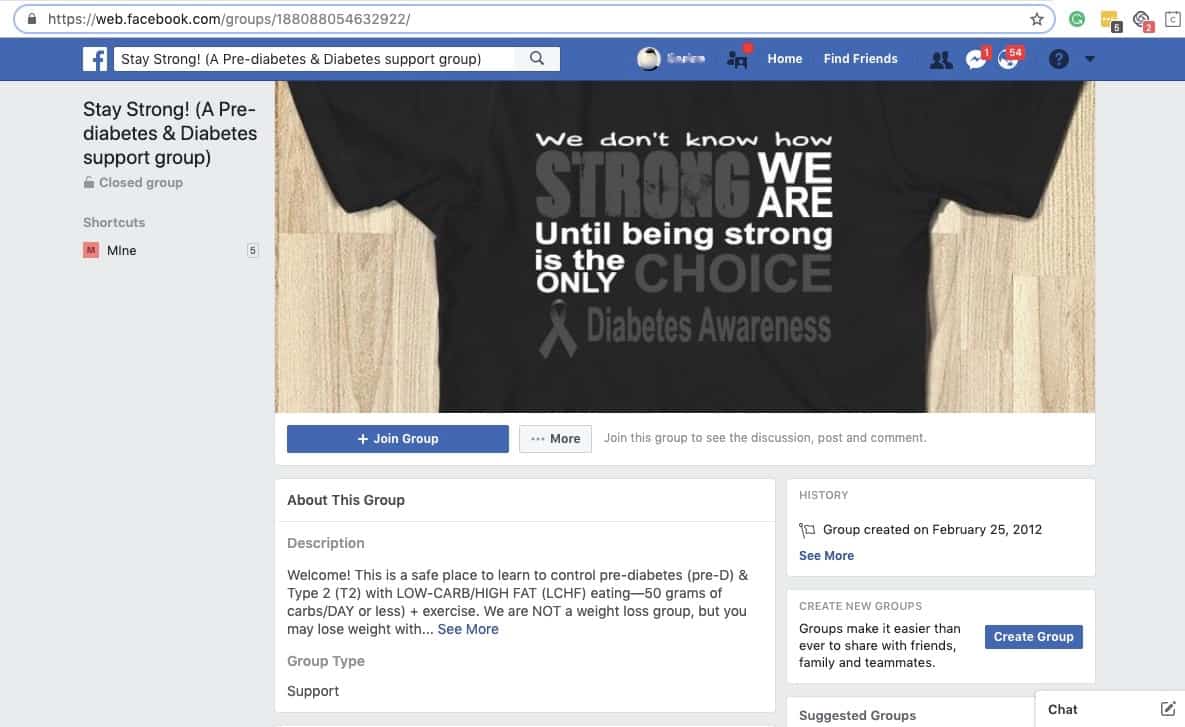 A support group for pre-diabetes & diabetes sufferers on Facebook
You can search Reddit for relevant health forum discussions, and search the web for the right blogs to comment on and patient advocacy groups to engage with. Sometimes a helpful comment or an introductory email can get your foot in the door.
Cost:

⭐️⭐️⭐️⭐️⭐️

Effectiveness:

⭐️

Reliability:

⭐️

Time:

⭐️⭐️⭐️

Difficulty:

⭐️⭐️⭐️⭐️
This recruitment method is best for when you have zero budget and a wealth of time. The results can be hit or miss — most of what you do won't work, but if you find something that does, it will be well worth the time investment.
Tip: Maintain a Digital Presence with a Study Landing Page
No matter the digital recruitment method you run with, consider using a landing page at the center of your campaign. You can use the URL to link from your paid ads, forum posts, emails and more. From there, you can have potential participants fill out an inquiry form to start building your prospect list.
The key here, as with any recruitment method, is to use the page to create effective promotional material for your trial. Take the time to create a good landing page with helpful information and engaging design that will draw participants in and save you time from answering questions.
Offline: Community Outreach
Recruitment doesn't have to be online to be organic. Community outreach takes the organic approach of engagement and applies it to the offline world. Armed with information on your study and a means to follow up, you can find willing participants at nursing homes, community events, in-person meetings for patient advocacy groups and even schools for pediatric studies. Sometimes the personal touch can do the trick.
Community outreach is best for both an elderly target population and for pilot studies, which only need a small sample size.
Cost:

⭐️⭐️⭐️⭐️⭐️

Effectiveness:

⭐️⭐️⭐️

Reliability:

⭐️⭐️

Time:

⭐️

Difficulty:

⭐️⭐️⭐️⭐️
The ranking here brings us back to the balancing act we discussed above. The cost is low (free, actually) but community outreach is the most time consuming recruitment method. If you have a low budget, try it out — if it works well and you are willing to put in the necessary time, then it's worth it.
Resourceful: Recruiting From a Participant Pool
This is by far the most popular recruitment method among sponsors, contract research organizations and clinical sites (see the research from Applied Clinical Trials). Internal patient databases provide a rich resource for finding and contacting qualified patients. You can search the database according to specific demographics and qualifying information, and create a list to contact in very little time.
With the patient information at your fingertips, you can build a subscriber list to send physical mailers and make recruitment phone calls to.
Recruiting from a participant pool works best if you are part of a medical practice since you already have access to patient information and have them coming into the clinic. If you're part of a clinic, accessing a database is very difficult due to patient confidentiality.
Cost:

⭐️⭐️⭐️⭐️⭐️

Effectiveness:

⭐️⭐️⭐️⭐️⭐️

Reliability:

⭐️⭐️⭐️⭐️

Time:

⭐️⭐️⭐️⭐️

Difficulty:

⭐️⭐️⭐️⭐️
As you can see, internal patient databases rank as one of the best recruitment methods for research studies. If you're not already building a database, you should consider starting — it will be one of your best resources down the road. Utilizing an existing participant pool may not be sufficient to fully meet your enrollment goals, but it will give you a good foundation from which to start.
Remember: Find the Right Recruitment Method For Your Context
Success in patient enrollment is determined by neither fancy technological tools nor good old-fashioned referrals.
Instead, it's determined by choosing the most effective recruitment method for your research study. Sometimes that means taking the time to build rapport with physicians to then ask for referrals, and sometimes that means learning the ropes of pay-per-click ads to reach a wide audience.
If you need further guidance on choosing the right recruitment method for your research study, reach out to the Trialfacts team to get started on your Due Diligence process.