With all the required steps in clinical trial recruitment, follow up and tracking, it becomes easy to treat patients as a cog in the machine rather than research participants who expect — and deserve — a relationship with researchers.
Because many get lost in the mechanics of recruitment, few clinical trials fully develop the volunteer-researcher relationship.
With the right instruments in place, you can transform clinical trial recruitment from the logistical nightmare that it has been to the first step in patient engagement that it should be.
Thankfully, there are thousands of online tools at your fingertips. Choosing the best for clinical trial recruitment can become overwhelming — particularly when considering security, usability and integration. Here, we highlight those that work well for researchers and clinicians alike.
But, if you don't have the time, skills or inclination to implement these tools yourself, a recruitment company could be your all-in-one solution.
Start with forecasting to achieve recruitment goals
Before beginning the recruitment process, you should have an accurate picture of how many candidates you'll need to meet the participant goal, and how many candidates you can expect from each recruitment strategy.
For any clinical trial recruitment company you partner with, be sure that enrollment forecasting, tracking and reporting are built into the recruitment process.
Advertising resources for better reach and engagement
First things first: you have to get the word out about your clinical trial. For that, clinical researchers are increasingly turning to social media to reach the right candidates.
You can either take this process on yourself or entrust the outreach to a clinical trial recruitment company. Either way, you should be creating posts that speak directly to your target population. For valuable info on advertising to recruit patients within a specific population, take a look at these resources:
Pre-screening tools to save time up front
To avoid becoming overwhelmed with candidates who may not be eligible for a clinical trial, you need tools in place that will help qualify those who respond to your advertising and recruiting efforts.
Pre-screening allows you to assess a volunteer's reasons for joining the study and their eligibility for it also. Ideally, this would take place online before a secondary phone screening session.
Online survey software are a simple but effective means of gathering qualifying information from potential participants. When it comes to pre-screening tools, the simpler the better—both for you and the patient. Happily, each of the tools below are either free or offer a low monthly cost:
Alternatively, you can work with a developer or recruitment partner to automate the pre-screening process. A developer can customize the flow of the form and automate reporting as responses come in.
After the advertising stage, the recruitment partner you've selected should have a process that assesses eligibility, as we do, and not simply gather information for you to assess.
The pass or fail step, according to the trial's eligibility requirements, should be automated and the result communicated to candidates to ultimately save you time.
More resources for a thorough pre-screening process
Tools for clear and personal communication
After pre-screening, you can start to engage more directly with your study volunteers. Since they've been through the qualification process, the population here should be smaller and more manageable.
You're likely familiar with this stage where you begin communicating with patients, making appointments for phone screening, scheduling clinic visits, and answering any queries they might have. Of course, it's also when you'll need tools to stay organized and on top of communication. Consider some of these tools to streamline your communication in recruitment.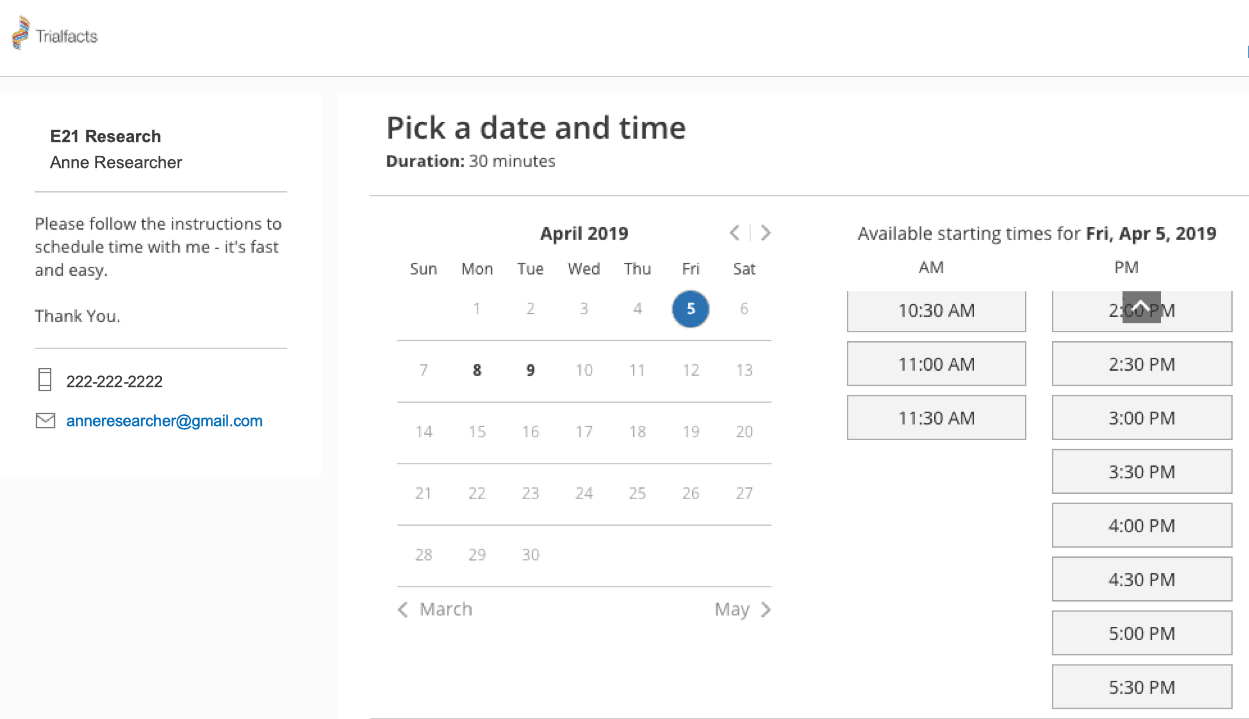 The Trialfacts appointment system is powered by MeetMe.
In choosing a tool, consider your priorities. Are you looking to build a list of contacts, send mass communication to an existing list from your pre-screening efforts, or focus on 1-on-1 interactions?
Additional resources for better volunteer communication
For more information on communicating clearly with potential volunteers, click through to these resources:
Recruitment tracking tools for real-time updates
Recruitment tracking tools should provide both a quick view and detailed look of your status in the recruitment process and the results down the line.
For a simple option, consider using Google Sheets or even Excel spreadsheets to track things like contact information, response, follow up, communication notes and more. UC Davis' Clinical Trials Office provides a list of templates for recruitment tracking.
For something built especially for clinical trial recruitment, tools like StudyTeam match the workflow of site staff with the goal of saving time. The work is still dependent on site staff efforts, but the software makes the process easier.
A good way to track recruitment progress is to maintain a live document to refer back to. This can include appointment and contact details, prescreening questions, and pass/fail prescreening information, phone screening and clinical screening stages. As experts in the field, keeping an up-to-date record is the most effective method we have discovered.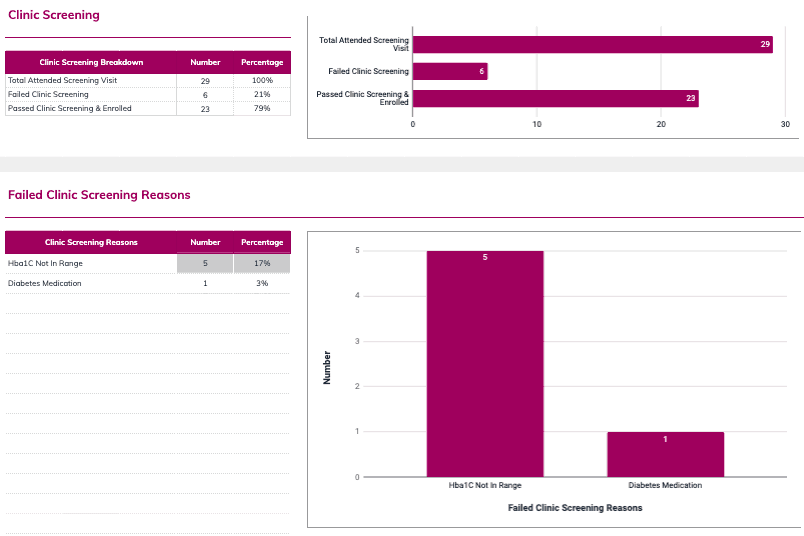 The Clinic Screening Report tracks the number of potential participants that have failed and passed clinic screening, and enrolled into the study.
Design tools to boost conversion and credibility
Design doesn't have to be your forte to bring a sharp image to your clinical trial recruitment process. These tools can supplement your advertising, prescreening and communication efforts.
Email templates: If layout and design are not your strong suit, consider the templates offered by the email marketing tools from the section above.
DIY graphic design: With drag-and-drop editors like Canva, you can create social media banners and captivating text in a short amount of time. Photo editors like PicMonkey let you overlay text and make your photos look much more professional.
Landing page software: Your advertising will convert potential patients to volunteers by having them to click through to, what is often, a landing page. This would be dedicated to your clinical trial, complete with basic information and a sign-up form. Tools like Unbounce and Instapage can help you create a winning landing page with no web design experience at all.
Design services: If you want a more hands-off approach in this stage, freelance and design service sites like Design Pickle, 99designs, Toptal and Upwork will connect you with the professional services you're looking for.
Critical points for any clinical trial recruitment tools
As you assess the trove of clinical trial recruitment tools we've outlined and others around the web, remember that not all tools are created equal. For each, don't forget to consider three critical points:
Privacy and security. All software should be HIPAA compliant since they will be dealing with contact information and (at times) patient health information.
Ease of use and learning curve. If software is a pain to use, then it likely won't be used, regardless of the features it boasts. Sometimes the simpler options are the best because they often take less time to get up to speed on the technicalities.
Keep it under one roof when possible. People love Google Drive for a reason—moving and collaborating on content couldn't be easier. With that as a frame, consider whether or not any recruitment service or tool can integrate with your current processes.
Automating and streamlining the clinical trial recruitment process is the key to saving you the valuable time researchers need to invest in other priorities.
The good news is—the tools exist and can help free you up for what is most important: developing relationships with participants and bringing precise focus on data collection and analysis.