The research team at The Charleston Alcohol Research Center (ARC) had the opportunity to explore how immunosuppressant medication could decrease cravings in people with moderate to severe alcohol use disorder.
As with all clinical studies, they needed participants.
But after five months of effort, the ARC research team had recruited just four. They knew they were facing a wall when it came to clinical trial recruitment — particularly in getting people to show up for in-clinic participation.
With frustrations mounting, the ARC team decided to go out on a limb by outsourcing recruitment. Understandably a difficult venture with the limited budget that a number of clinical trials have.
Fast forward 9 months — and they began consistently bringing in their target number of referrals each month. At the start of the outsourcing partnership, they doubled the number of participants in just six weeks.
If you have the same concerns about outsourcing recruitment as ARC did, consider our Due Diligence process. The risk-free assessment will give you a guaranteed number of patients we can recruit for your study and an honest look at the potential challenges.
Initial Recruitment Efforts See Few Results
Emily and Mary Elizabeth both work at the Medical University of South Carolina, conducting clinical research studies for ARC, with a focus on addiction studies.
The study they undertook with ARC looked at additional uses for Rapamycin, an immunosuppressive primarily used to treat lung disease and recovery from an organ transplant. The study looks at "the potential effects on decreasing craving for and interest in alcohol in people that are alcohol dependent," Emily told us in a recent interview.
Their challenges began soon after they started recruiting for the study.
Emily and Mary Elizabeth posted about the study online, hung flyers around the community, handed out information at Alcoholics Anonymous meetings and even advertised on local television stations.
But after five months, they had recruited just 4 participants. Mary Elizabeth spoke to the issue: "I think our big problem with recruitment was not getting people to call in with interest. It was getting people to actually then commit to the study once they've passed the initial phone screening."
The team had difficulties getting people in the door for the in-person screening once they had confirmed interest over the phone or in their first visit after being approved for the study.
ARC Team Was Wary of Outsourcing Recruitment
Working with a patient recruitment company wasn't something Emily and Mary Elizabeth took lightly.
They had a recommendation for Trialfacts from another university doctor and program coordinator, but needed to learn more information for themselves. "We were a little concerned because it felt a little untested," Emily told us. "We weren't quite sure how it was all going to play out."
Beyond the uncertainty, Emily and Mary Elizabeth weren't sure about partnering with an external team so far into the study — and they had their limited budget to contend with. "We were pretty far along in the study timeline-wise, but our recruitment hadn't been going well," Emily said. "So we decided to see what Trialfacts had to offer."
With the budget, timeline and recruitment goals to consider, the decision to outsource clinical trial patient recruitment was certainly a difficult one.
So what ultimately made the difference for the ARC research team?
The Promise of a Tailored Recruitment Plan
"Once we got started in everything, we were a lot more comfortable," Emily told us.
Emily and Mary Elizabeth began by talking with Trialfacts CEO Nick Karrasch about the Due Diligence process and enrollment targets: "That's a really helpful process — it's great from a user perspective to understand what we're getting into, understand that you guys are invested in it and that you have a good idea of the targets."
It's a process designed to set expectations across the board — for our team to jump into the unique clinical trial challenges feet first and communicate how to overcome them. The projections turn recruitment from a frustrating experience to a strategic endeavor.
With Due Diligence setting them at ease, Emily and Mary Elizabeth were ready to jump into recruitment, but this time with the support of Trialfacts.
The recruitment methods for research studies created by Trialfacts were helpful from the start — something that the ARC team had been unable to do themselves. "Recruitment being mostly digital was good for us because it helps us tap into a different base than we had before, and it didn't overlap with the people we had already screened," Emily told us.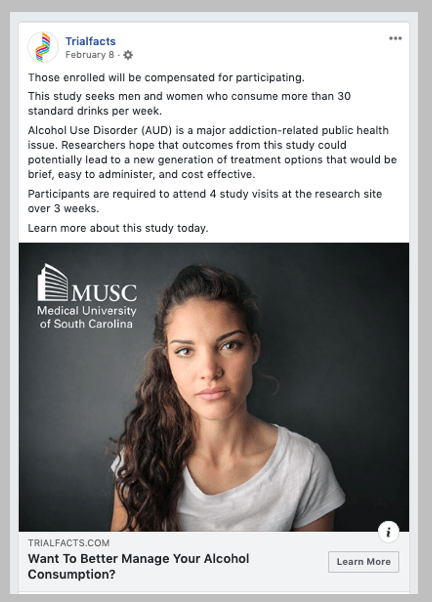 Social media ad for the ARC study
Mary Elizabeth agreed, saying the unique landing page for the study and tailored social media efforts made a big difference. "We definitely don't have the capacity on this team to build a dedicated website," Mary Elizabeth said. "When we did social media posts, they wouldn't be continuous. So that was a great feature."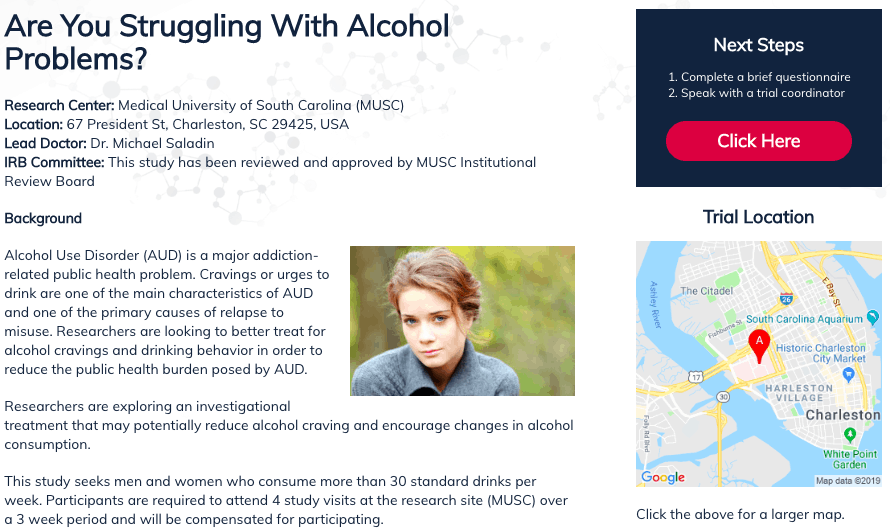 Landing page for the ARC study
The ARC team had their worries assuaged, but they were waiting on the results to be truly convinced.
Due Diligence set the foundation of trust with the researchers, but the tailored recruitment strategy was what made a real difference in the outcome.
The result? More calls, more interest and more engagement.
The online tool Trialfacts used to schedule potential participant call-backs was instrumental in supporting the end result. "Setting up the phone calls was very helpful," Emily told us. "That way we knew that there was a time that we could reach them."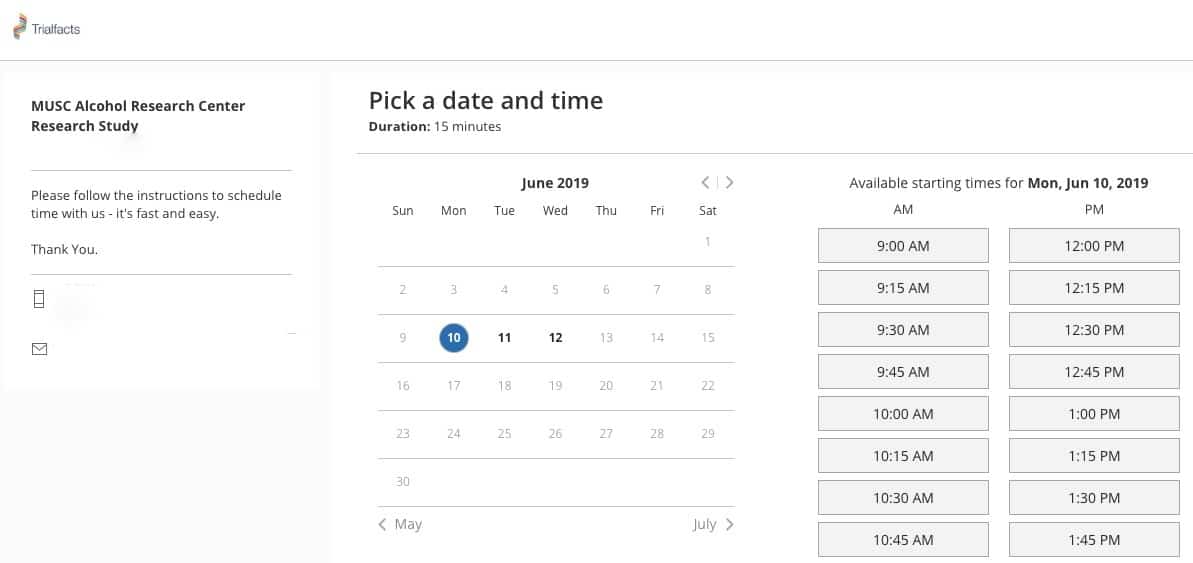 Trialfacts built-in screening scheduling tool
Early on in recruitment, the same issues of in-clinic attendance began to threaten enrollment numbers but we nipped that in the bud swiftly. The answer was narrowing the exclusion criteria further in the prescreening questionnaire, and this improved patient enrollment results. "You guys have offered opportunities to address that situation," Mary Elizabeth said.
While the ARC team had recruited four participants in five months, to their surprise our initial recruitment efforts provided 51 referrals over six weeks.
Referrals from Trialfacts were adjusted so the research team, who requested four per week, could process a manageable amount and give each person the attention they deserved.
After going through screening and enrollment, the referrals converted into six participants in six weeks — a third of ARC's 18 participant target. This was early in the study and we continue to recruit for the ARC team today who've chosen Trialfacts to partner with going forward due to our results during this period.

Great Communication and Collaboration Made for a Better Experience
Good results are the primary goal in patient recruitment, but outsourcing recruitment should also be a good experience.
The major difference for both was the fresh take on recruitment and methods tailored to the ARC study that Trialfacts brought from the start. They felt the outcome was facilitated by the communication and collaboration of the Trialfacts team.
"Throughout the process I really appreciated the responsiveness," Emily told us. "You were very fast about getting back to us, which was useful to make some quick changes." But the communication extended beyond simply responding to emails quickly: "When we felt like something wasn't quite right with how the initial survey was set up, you were very quick about adjusting it."
At the same time, Emily and Mary Elizabeth had access to the recruitment spreadsheet throughout the process, allowing for better collaboration. "The spreadsheet that you had for recruitment made it easier to see who was passing, who wasn't and why," Emily said. "We could make changes or try to get people who hadn't passed back in, if needed, or see what adjustments we had to make."
These adjustments helped solve the engagement problem that the ARC study previously had from the start.
Initially, the ARC research team just wanted to give Trialfacts a try — but they were left pleasantly surprised at the engagement, results and easy process. "I would definitely recommend y'all," Emily concluded. "Especially for those having a slow go at recruitment or those who haven't tapped into using digital resources."
For more information on what the Due Diligence process can look like for your patient recruitment woes, feel free to reach out to the Trialfacts team today.