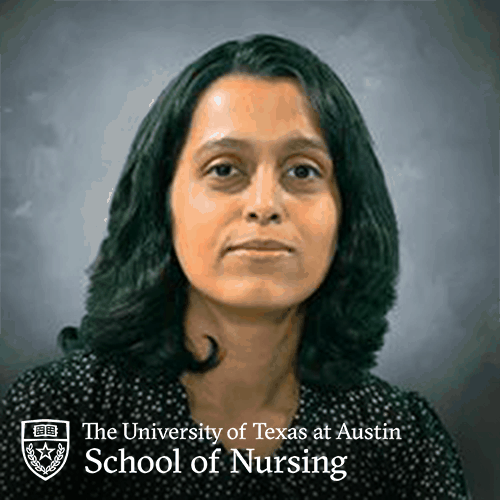 Dr. Kavita Radhakrishnan is an Associate Professor at the University of Texas at Austin School of Nursing. She and her team were studying how smartphones could help elderly patients with heart failure track their behaviours at home.
Then, the unthinkable happened. COVID-19 made doing the study, and the recruitment for it, practically impossible.
Her dream of helping heart failure patients with her research was in jeopardy.
Dr. Radhakrishnan realized that the only way to save her dream was to take a big chance. She had to move her study online, which meant rebuilding it from the ground up.
A Heartfelt Study Begins
Dr. Radhakrishnan has a rare combination of specialties: a Master of Engineering and a PhD in nursing. Both skills were helpful in one of the first studies she worked on, a home telehealth study.
Patients in this study sent in their vital signs to a clinician via phone. "The technology was not engaging," recalls Dr. Radhakrishnan.
She knew she needed to do something to heighten engagement in order to have successful patient outcomes. Using these learnings, her next study used smartphone games to engage patients. It showed great potential!
Her current study, funded in September, 2018, helps heart failure patients learn about and track their disease at home using smartphones.
"A person with heart failure needs to manage it daily," she explains. "But they only see their cardiologist every one to three months. Our research fixes that gap."
Heart failure patients check physical activity and weight daily in order for the patient to monitor their own cardiac health.
"If a heart failure patient's weight goes up by two pounds in a day and the lungs are filling up with water, that indicates they may need to seek attention," she says.
Dr. Radhakrishnan had to finish the study before May, 2021, when her funding would end. She had plenty to do. She would need to develop the technology, test it, fix it and then do the main study.
Recruiting Challenges and Sleepless Nights
"In doing research with older adults, recruitment is my biggest nightmare!" exclaims Dr. Radhakrishnan.
Heart failure patients are especially difficult to recruit.
"They have good days and bad," says Dr. Radhakrishnan. "It's a really tough disease and the prognosis is not good. So ethically, the study has to be something that's meaningful for them, or they are not going to completely engage."
She was trying to recruit the study's 44 participants through clinical partners in Austin, but it wasn't working.
Either Dr. Radhakrishnan or one of her team members were meeting with potential candidates at a rehab center a few times a week. "It was very time consuming," she says.
"In doing research with older adults, recruitment is my biggest nightmare!"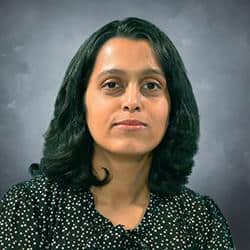 Kavita Radhakrishnan PhD, MSEE, RN
Associate Professor
They were enrolling four to five participants a month, but recruitment worries were still keeping her up at night. Slow recruitment means research hold-ups and funding pressures.
"Everything gets delayed because of my recruitment," she says. "By the time it all happens, the technology becomes obsolete!"
Despite these challenges, Dr. Radhakrishnan was still hopeful she would have her recruiting done on time.
"I thought we would need to recruit until October or November, 2020. I could have managed that. One of my research assistants would have fallen off, but I could have picked up the bulk of that work," she explains.
COVID-19 Changes Everything
But, that was all before March 11, 2020, when her university shut down due to COVID-19.
"Everything came to a screeching halt," she recalls. Her entire research project and recruitment strategy evaporated overnight.
Dr. Radhakrishnan realized that to continue her research, she had to take the whole project online.
This was a daunting task. She needed to learn an entirely new set of skills and create custom processes for the study. Although she had no experience with any of it, she had to get it done in record time.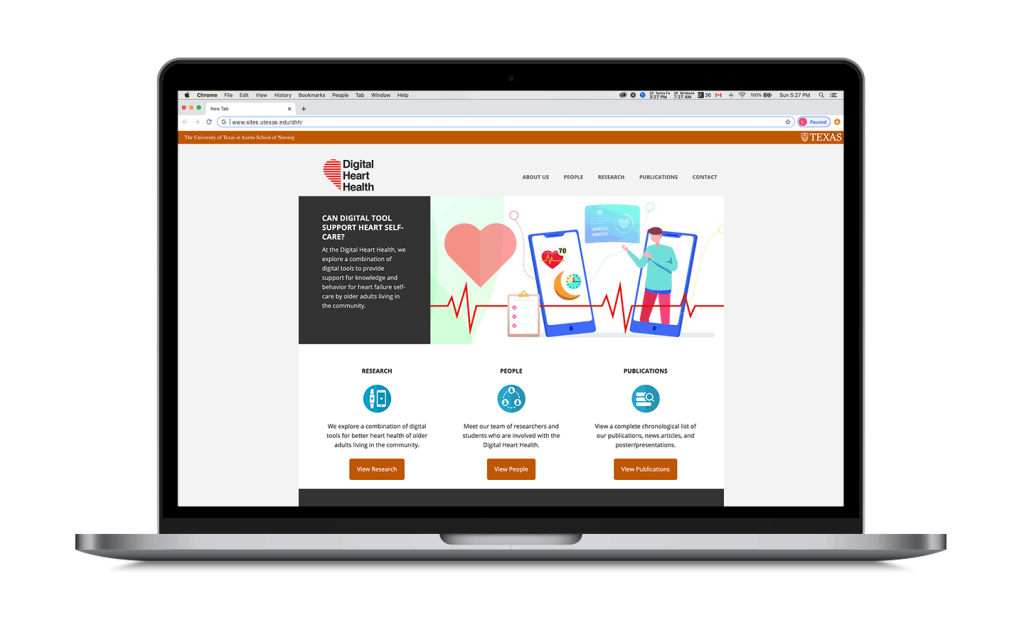 Dr. Radhakrishnan and her team moved the entire study online, something they had never done before.
Dr. Radhakrishnan and her team created YouTube videos and scheduled FaceTime meetings.
They shipped out study packets and new devices.
They wrote step-by-step device installation guides and jumped in for tech support, where needed.
It was a lot of work, but it was coming together, all except for one essential part: study recruitment.
"Older adults with heart failure are the most vulnerable population to COVID," explains Dr. Radhakrishnan. "None of my former protocols—like hanging out at the rehab center and hospitals—were practical anymore."
A lack of participants would end her study, which could be costly in many ways.
"If a study has too few people, I cannot publish," she explains. "If I don't publish, it doesn't look good on future grants. That stays with you. It can be fatal to a research career if you are unable to recruit."
But, the biggest loss of all would be the heart failure patients' ability to take charge of their own health at home.
"I thought my study was finished," says the associate professor. "I didn't know what to do."
Desperate, Dr. Radhakrishnan Stumbles Upon Recruitment Outsourcing
When Dr. Radhakrishnan first learned about recruitment outsourcing, she was skeptical.
"But," she says, "I was desperate!"
"This is a completely alien concept. The purest form of recruitment is recruiting on your own, right? But, we all struggle with it. When Trialfacts said they could recruit people through advertising and marketing, it seemed too good to be true."
She didn't think that Trialfacts could find older adults online. "I didn't know if older people even looked at social media," she says.
She also questioned the sourced participants' legitimacy. "How would Trialfacts make sure these people had heart failure? Would they sign up just to get incentives?"
Dr. Radhakrishnan's analytical approach guided her decision-making. "I like to see order and method," she says. She decided to give Trialfacts a shot.
During her first call, she learned that Trialfacts has a unique, data-driven process that offers a 100% risk-free assessment, and guarantees the number of participants that can be recruited for a study.
"Trialfacts had a methodological approach to predict the recruitment target. It wasn't like some wishing wand. They asked the right questions and acknowledged limitations. They weren't giving me wild and crazy hopes, but were being very realistic," she explains.
From Skepticism to Success
Skeptical, but hopeful, Dr. Radhakrishnan started working with Trialfacts.
She watched with excitement as her recruitment numbers grew. "My favorite part was seeing the highlights on the spreadsheet indicating people showing up."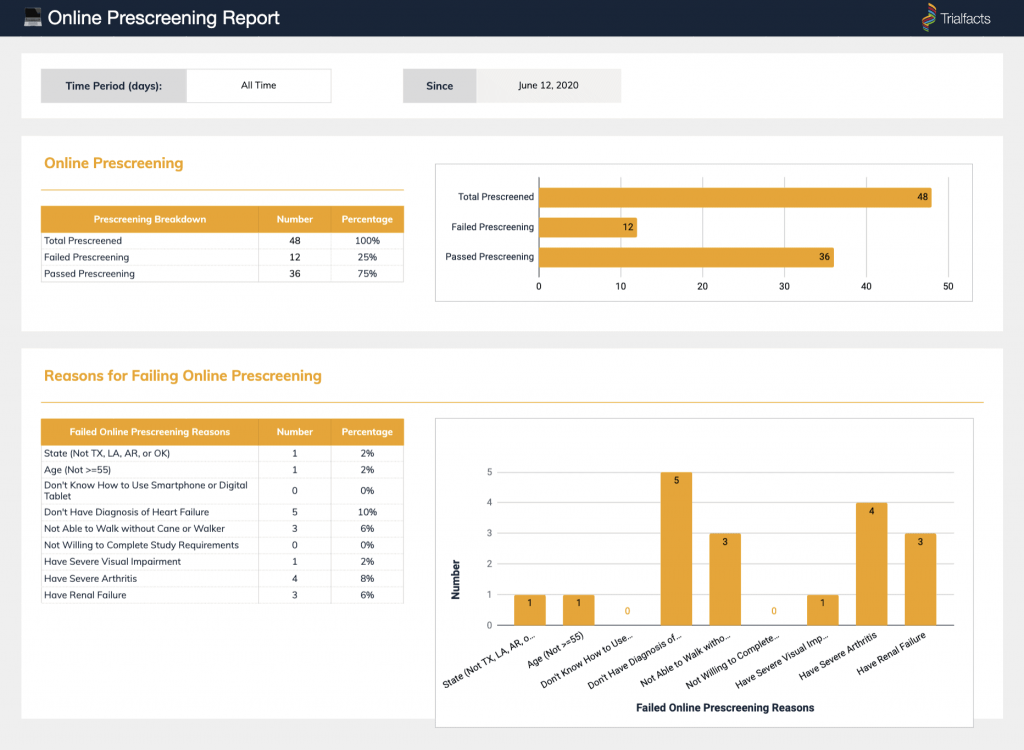 Trialfacts Enrollment Report spreadsheets track participant contacts, pre-screening results and shows which candidates are qualified ready to be contacted by the research team.
Trialfacts recruitment funnel indicated Dr. Radhakrishnan could recruit nine or ten participants in two weeks. "It actually went better!" she says of the results. "In seven weeks, I got five people from my hospital and 18 people from Trialfacts."
She continues, "In seven weeks in normal times, I would have recruited six people. Trialfacts ended up recruiting 18 people, which is fantastic!"
"It is nearly three times the rate that we would have had!" she adds in disbelief.
The new recruitment approach also offered unexpected advantages.
"The goal of the study was to access folks who have the toughest time getting into the clinic. We were finally accessing the rural Texan population who have the least access to care."
She continues, "Some people in our study were a hundred miles from a city, from towns we had never even heard of. It was fascinating!"
"In two months in normal times, I would have recruited six people. Trialfacts ended up recruiting 18 people, which is fantastic!"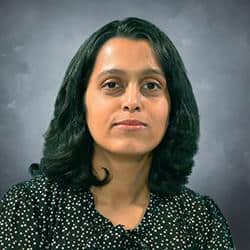 Kavita Radhakrishnan PhD, MSEE, RN
Associate Professor
"The new approach makes so much sense," says Dr. Radhakrishnan. "Now that I've gone through the process with Trialfacts, my mindset is completely changed."
"I don't know why we haven't thought about it before. I'm thinking COVID ended up being a game changer."
Her study is at 38 participants and growing. "Now, because of the fast pace of recruiting, we're, like, done with this study," she laughs.
"It's amazing. The one thing that used to keep me awake at night is not keeping me awake any more!"
The Sky's the Limit: the Possibilities are Endless
The results from this study will help Dr. Radhakrishnan and her team apply for grants with much larger funding. Her dream of helping older adults with heart failure is much closer.
She vows to have a new team member on board for future grants. "I can't imagine doing this without Trialfacts again! Trialfacts showed me the possibilities. The sky's the limit!"
"I know I'm being exuberant," exclaims Dr. Radhakrishnan, "but you have no idea how relieved I am! I will be writing Trialfacts into the budget for recruitment allotment. Lesson learned!"
Dr. Radhakrishnan is hopeful for the future. "I was considering other lines of research because of my recruitment challenges. But this strategy has made this kind of research sustainable and that's amazing!"
She adds, "Contracting with Trialfacts was the best thing I've done and it saved my study. It has put my research on a completely different level. I'm very pleased by how this whole process went, given the skepticism that I had when I came in."
"It's a huge relief and weight off me," says Dr. Radhakrishnan. "I have to say 'thank you' to Trialfacts."
Dr. Radhakrishnan rose to the challenge of an historic crisis. She could have given up, but instead, she used hard work, quick learning and innovation to save her study.
Her perseverance could ultimately impact and improve the daily lives of the millions of patients currently living with heart failure.