Challenge
Dr. Tracy Prout, an Associate Professor of Psychology at Yeshiva University, had a problem. Her study working with children with oppositional defiant disorder had reached the half-way point of its three-year timeline, and she only had 25% of the necessary participants enrolled.
She and her research team were exploring the effectiveness of Regulation Focused Psychotherapy for Children, a 20 session in-person treatment delivered over a ten-week period. Their goal was to see if disruptive behaviors decreased, and if emotional regulation would increase thanks to the intervention.
The research team had invested a lot of time and money into recruitment. They had a website, used Google Adwords, mailed over 10,000 postcards to local physicians, schools and head-start programs, and were active in the community giving presentations.
Despite these efforts, they were not connecting with enough participants who fit their study protocol.
Enter Trialfacts
The decision to work with an external recruitment company was one that was first met with some speculation. The patient population needed for the study was very specific and there was concern about cost and impacts to the study's small budget.
"Initially, I thought there was no way this would work," said Dr. Prout. "We won't be able to afford it. We're too small of a study."
After having two phone calls with Trialfacts CEO Nick Karrasch, Dr. Prout felt confident that he understood the challenges of participant recruitment, especially in an academic setting. She was also reassured that the small size of her study was not a hindrance to using Trialfacts for recruitment.
Trialfacts worked closely with the research team during the Due Diligence process, and were upfront and transparent about the challenges of recruiting participants that met the criteria of the research protocol. The ability to use Trialfacts' services for a pilot period gave Dr. Prout more confidence in her decision to outsource recruitment efforts.
"The Due Diligence process gave me an idea of what could be feasible… having the opportunity to do that [the pilot period] before we moved into a larger scale recruitment plan was especially helpful."
Results
Where the research team had been getting one or two referrals every two weeks, now with Trialfacts' involvement they were getting multiple referrals per day.
"Suddenly, my students were like, 'Oh my Gosh, this is almost too many people.' We were getting 3, 4, 5 referrals a day, which was a huge increase."
At one point, the research team had to ask for the recruitment campaign to be paused in order to keep up with screening and enrollment.
"I wish that we would have been able to work with you sooner," said Dr. Prout. Reflecting more on her experience she said, "I think that the tracking spreadsheets are amazing. They're so helpful." She was also happy with the personalized marketing plans developed by Trialfacts and the input she had into the content.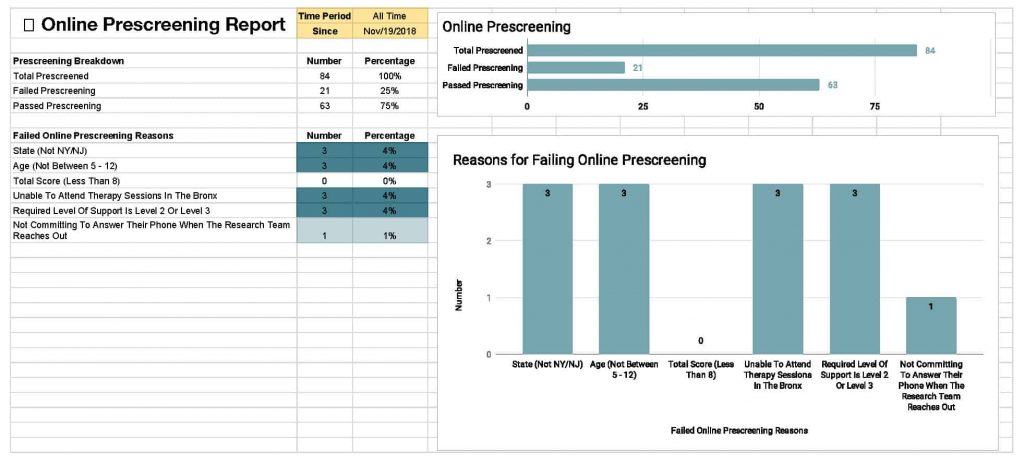 Trialfacts Online Prescreening Report
The added ease and convenience of using an online scheduling tool for phone screening meant that families could select times that worked for their schedules. It also reduced the workload for the research team and created a clear pathway for families to get information about the study.
Many of the families with children with oppositional defiant disorder are under significant stress and are struggling to find treatment or are waitlisted for services. Managing their child's behavior is a daily challenge, especially without support from a mental health care provider.
"Beyond the research protocol, it's really nice to know that families feel like they're getting the care and services they've needed for quite a while," said Dr. Prout.
Early results from the study are showing treatment compliance rates as high as 96%, whereas typically for this type of psychosocial intervention one would expect to see that rate between 50% – 60%.
Dr. Prout is hopeful that the success of this study will result in more funding and lead to the creation of materials that can help train mental health workers, teachers, and childcare providers to work better with children with oppositional defiant disorder.