Research Center: Queens College
Location: 6530 Kissena Blvd. Flushing, NY 11367
Lead Researcher: Kerstin Unger, Ph.D.
IRB: This study has been reviewed and approved by the Queens College Institutional Review Board
About the Study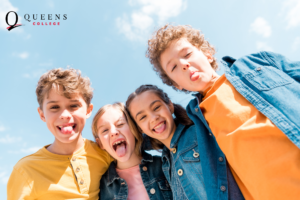 How are meaningful memories of everyday experiences built in a child's brain? What aspects of an event do they remember and which ones do they forget? How does their knowledge about the world affect the memories they form? You and your child can help answer these questions.
As children grow, they continuously learn about the world around them. Remembering begins with understanding. If children experience events that they do not fully understand, they are less likely to recall them correctly. This research study seeks to learn more about how children learn and understand events in everyday life, such as when watching a movie, and how the brain develops over time.
Why Should You Let Your Child Participate?
Parents or legal guardians will be compensated up to $100 plus a small gift for your child's participation.
Your child will be contributing valuable information that may advance researchers' knowledge of how children learn and remember.
Your Rights
If you decide to participate in the study and later feel that you no longer wish to be part of it, you can withdraw at any time.
Any information that you provide will be kept strictly confidential, except as required by law.
Who Can Participate?
Children aged 5-10 years old.
Must be a native English speaker.
Must be right-handed.
Must have a correct-to-normal vision and hearing.
Must not have any psychiatric, neurological, or neurodevelopmental disorders.
Must be able to attend 2 study visits (2 hours each) at the research center.
More Study Details
The study team will explain the research in its entirety but some details are:
Participants will need to watch 3 movie clips and later tell the researchers about the clips.
While the participants are describing the clips, the researchers will record their spoken response and their brain waves (EEG).
Participants will have 2 EEG sessions (1-2 hours each).
Participants will perform standardized assessments of their cognitive abilities.
Please note:
Due to the COVID-19 pandemic, the researchers would like to assure the participants that ensuring their and the study staff's safety is of utmost importance.
Location